True Color Task Lamp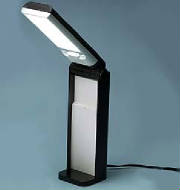 19″ Folding lamp shuts off when closed

You'll really be able to pick up the "true color" of your items when you take pictures using this light. The bulb is rated at 5000° Kelvin – the exact light temperature of pure daylight at noon.
>The perfect light for stamp and coin collectors and crafters. Crisp clear lighting reduces eyestrain and brings out the details. This diamond grading light is portable and easy to use. It brings daylight onto your tabletop with it's energy efficient full spectrum fluorescent bulb (included). The lamp features auto on and off. Just flip up the light and it's on – flip it down and its off!
This is offered at a very reasonable price of $31.99 plus shipping & handling of $8.50, credit cards are accepted through PayPal. Click the Buy Now button below to purchase.
---
---