About
Marsha Collier
This is the part of my website that is the most difficult for me. I've always found that "bios" tend to be self-aggrandizing and more than a bit pompous. I'm not good at blowing my own horn. With that in mind, below is my bio from my publisher. I hope it will give you some insight into what I do and what I love. My career entrepreneurial began before internet marketing, with my own agency, featured in Entrepreneur magazine.
I also invite you to visit my page in the Wikipedia.
I'd be honored to speak at your conference or to your employees, I have a page with that information.
---

Marsha Collier's name crops up a lot in the same breath as e-commerce and customer service. No surprise there. She's the author of the For Dummies series on eBay (eBay For Dummies, Starting an eBay Business For Dummies, eBay Business All-In-One Desk Reference for Dummies) plus many other related, best-selling titles. She is one of the foremost e-commerce experts and educators in the world. With over 1 million copies of her books in print (special editions for the UK, Germany, France, Canada, Australia, Chinese – and an edition in Spanish), she is the top selling eBay author. As of 2007, over a million books have been sold since her first in 1997 and been on the many top Best Seller lists.  Her titles reflect over 40 books in the Wiley "For Dummies" series.
Her latest books 'Social Media Commerce For Dummies' and  'The Ultimate Online Customer Service Guide: How to Connect with your Customers to Sell More' gives businesses insight into how to use Social Media to build customer relations and bottom line.
Her e-commerce advice has appeared in publications such as Martha Stewart Living and Reader's Digest, and don't be surprised if you've seen her on television – as a guest on The View or the Today Show and in her own PBS special, Making Your Fortune Online.
She is a popular keynote speaker, inspiring online businesses to success, speaks at conferences worldwide, and runs a successful online business – so is she an internet fanatic? Well, let's just say she's on a mission: educating current and future online sellers.
Very active in social media, Marsha uses her years of experience to instruct online citizens on selling and marketing. She was named one of the top twenty iCitizens by Kelly Mooney in her book, "The Open Brand." She is founder of the Twitter Customer service chat #custserv, and you'll find her there every Tuesday at 9pm ET.,
---
Listen to Marsha every Saturday live at noon Pacific Time on Computer & Technology Radio. Archives of the show are available on iTunes, Stitcher and Tunein.
She is examining and researching social media as a tool for businesses to better connect with their customers and provide better customer service. She speaks at many universities and major conferences translating the use of social media into social commerce, including:
---
She's earned spots on many online lists:
---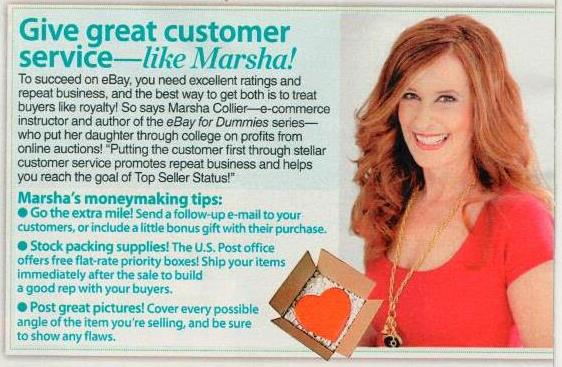 ---
A Message to my readers…
I can't begin to tell you how lucky I am, writing about the online world and meeting so many of the Community Members. Thank you all, from the bottom of my heart for your support and comments. I want to keep in touch with you, via this website, social media and blog. I'm a one woman show: writing, teaching, buying & selling on eBay – with a family to take care of!
---